Back
Check off your Fall Bucket List in Augusta
I don't know about you, but Fall makes me want to walk among the changing leaves, listen to ghost tales and warm up with a hot cup of coffee or hot cider. With that in mind, I made my Fall Bucket list with lots of fun ways to celebrate the changing of the season in Augusta! Below, you'll find helpful links so that you can start planning your Augusta adventure too!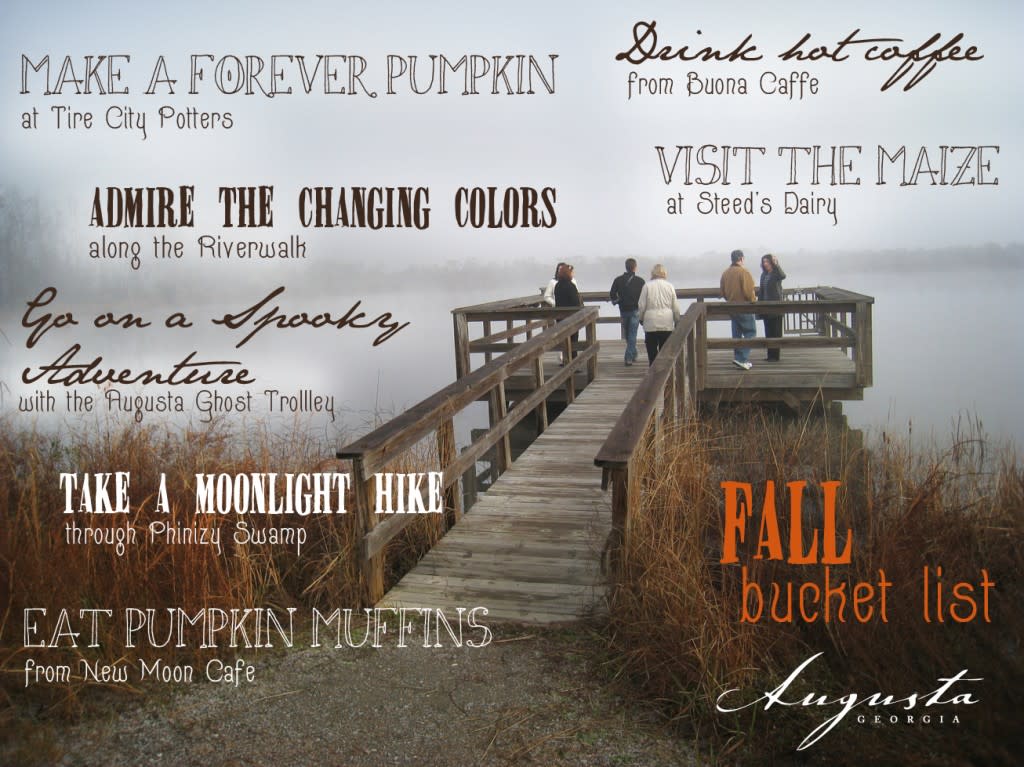 1. Make a Forever Pumpkin at Tire City Potters: https://www.facebook.com/tcpotters
2. Admire the changing colors along the Augusta Canal http://www.augustaga.org/Things-to-Do/Attractions/Augusta-Riverwalk
3. Go on a spooky adventure with the Southstar Ghost Trolley: https://www.facebook.com/The-Augusta-Ghost-Trolley
4. Take a moonlight hike through Phinizy Swamp: http://naturalsciencesacademy.org/calendar/
5. Eat pumpkin muffins from New Moon Cafe: https://www.facebook.com/pages/The-New-Moon-Cafe/461891810716
6. Drink hot coffee from Buona Caffe: https://www.facebook.com/pages/Buona-Caffe-Artisan-Roasted-Coffee/419877860272
7. Visit The Maize at Steed's Dairy: http://www.steedsdairy.com/projects.html
8. Venture into a Haunted House:
9. Try Halloween Family Camping:
10.
See you soon!