Back
Caribbean food at Rae's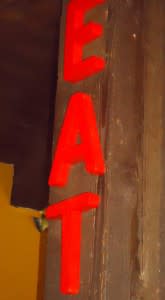 Nestled away in the beautiful Forest Hills neighborhood in Augusta, Georgia along the legendary Rae's Creek (which runs through the Augusta National Golf Club's infamous Amen Corner) is Rae's Coastal Cafe.
To be honest, the restaurant is a little difficult to find, it's hidden and is a nice, quaint escape from the city. But, one call to the cafe and the friendly staff will be more than happy to guide you to your destination. Or you could always follow the smell of their unforgettable food!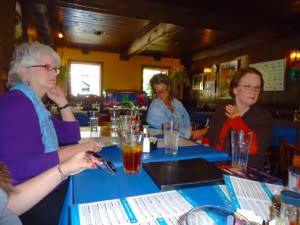 My first trip to Rae's Coastal Cafe was for a friend's baby luncheon. Traditionally people have baby showers to celebrate the birth of a child, but she wanted something different and non-conventional. So, we chose a different, non-traditional restaurant.
They serve seafood, Southern and Caribbean style dishes. The atmosphere is quite cozy and nestled within a very pleasant neighborhood, surrounded by lots of trees and vegetation. You really feel like you've left the busy city, even though it's simply minutes away.
Our waiter, Derrick, was fantastic and very knowledgeable about everything on the menu. The management was also very friendly and came out to check and make sure everything was perfect, and it was!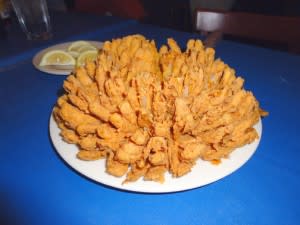 For an appetizer, we ordered the Onion Bloom and the Shrimp Pate with Mango Chutney, which was delish.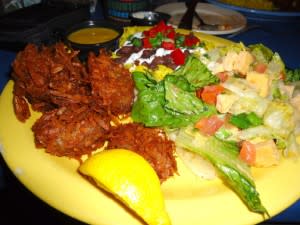 I ordered the Coconut Shrimp for an entree, which was served with the Rae's House Salad (fresh greens, tomatoes, pita croutons  and Rae's house made  dressing), and rice and black beans. I was very satisfied with my choice.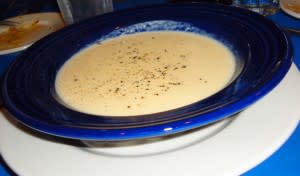 After hearing so many people rave about Rae's famous She-Crab Soup, we couldn't leave without trying it! And? It was fantastic! The soup was cream-based, similar to a chowder, but lighter with a sweet, fresh crab taste. Simply said...it is the best soup I've ever tasted.
Rae's is open for both lunch and dinner. The Cafe also has a full bar and outdoor seating. Oh, and don't forget their Key Lime Pie; it's the perfect combination of sweet and tart, just as it should be.
If you haven't tried Rae's, you're missing out on some scrumptious food!
Rae's Coastal Cafe (706) 738-1313 3208 W. Wimbledon Drive Augusta, Georgia 30909
Hours of Operation: Tuesday - Friday    11 am - 2 pm for lunch Tuesday - Thursday   5 pm - 10 pm for dinner Friday  -  Saturday    5 pm - 11 pm for dinner Sunday  12 pm - 10 pm for lunch and dinner