The other day I had lunch with a friend at one of Augusta's newest restaurants, Blue Horse Bistro and Jazz Club. Located in the historic D. Timm's building, with the iconic Blue Horse, the restaurant offers fine dining and jazz in the evenings and a great lunch menu.
Rebekah had cabbage soup and crab cakes. Both were delicious and perfect lunch portions. The crab cakes were a little spicy, but just enough to make the dish really good.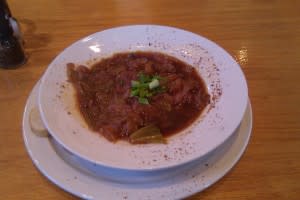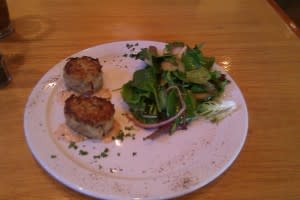 I had the herb-marinated grilled chicken sandwich. The remoulade that came with it had a touch of ginger, which was really nice with the chicken. Their sides included two of my favorites, creamed spinach and sweet potato fries, and I had a hard time choosing. I'm always on the hunt for good sweet potato fries so I figured I would give theirs a shot and I wasn't disappointed. Most places don't use enough salt, which makes them so bland, but Blue Horse used sea salt and the result was really good.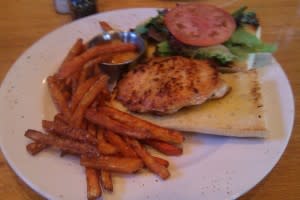 Even more impressive, our lunch only took 45 minutes, perfect for a business lunch and even better for a day packed with site-seeing in Augusta. Blue Horse is located just down the street from the Augusta Museum of History and one block away from the Boyhood Home of Woodrow Wilson, so it is a great lunch stop between the two attractions.
For more information check out their Facebook page.
Blue Horse Bistro and Jazz Club 302 Sixth St Augusta, GA, 30901 (706) 955-9875
Monday - Thursday: 11 a.m. - 10 p.m. Friday 11 a.m. - 2 a.m. Saturday 4 p.m. - 2 a.m. Closed Sunday