Back
Beyond Casual – Fantastic Seafood in Augusta, Georgia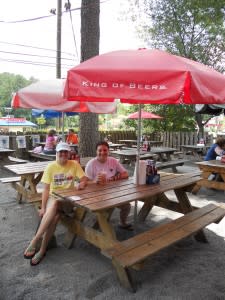 It is my favorite place for Fried Shrimp in the world. I am not sure how they do it, but Rhinehart's Oyster Bar must have some secret ingredient, because this stuff is fantastic!
The shrimp is light and flaky and very fresh. I order either the Fried Shrimp Basket or the Shrimp Po Boy, and I always get the fries. Their cocktail sauce and tartar sauce must be made fresh everyday because it perfect for dipping shrimp and fries.
The restaurant itself is an experience. They say it is "Beyond Casual." And what they mean by that… is that is you eat on picnic benches and can write on the walls. Graffiti is encouraged. I like to eat outside and don't mind sharing a picnic table with strangers on crowded nights. They run all you can eat Crab Legs night – also super tasty – those nights I end up sharing a table sometimes. But that is just part of the fun. My husband loves the Beyond Burger. He says it is the best burger in town. The kids love playing outside and the grilled cheese sandwich and grits.
This picture is of my colleagues Anna and Katrina. We went to Rhinehart's after a morning of canoeing the Augusta Canal. Yes – beyond casual also means you can come a little hot and sweaty.
Rhinehart's Oyster Bar 3051 Washington Rd. Augusta, Ga. 30909 706-860-2337