(This is a repost from June 11, 2010.)
The first time I heard about a new event called the 'Papa Joe's Banjo-B-Que' that was happening on Memorial Day weekend I knew it was going to be great. The name is so original and catchy.  The Banjo-B-Que is all about bluegrass music and barbeque, and so much more! 
How can you beat a Kansas City Barbecue Society sanctioned barbeque cook off?  There were over 20 teams cooking for days to see who had the best chicken, ribs and pulled pork. As we walked in the gates all we could smell was sweet, sweet meat. A good number of teams cooked enough to be able to sell some of their barbeque for people to try.  I think by the end of the day we tried meat from 3 or 5 different teams, along with boiled peanuts and other culinary delights. I was in heaven!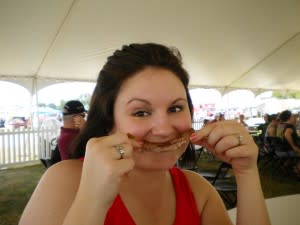 The promoters of the Banjo-B-Que stated that it was perfect for folks of all ages and they were right.  There were carnival rides and games for kids, and even a petting zoo.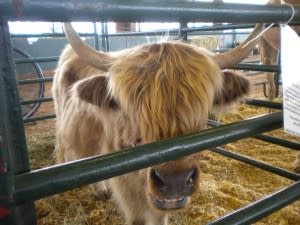 There was also several food tents with cotton candy, funnel cakes and fried goodies, and for the grownups there were plenty of beer tents, so we were never far from refreshments.
I also got to experience something I never had before...pig races!  Throughout the day they had little piggies running around a miniature racetrack.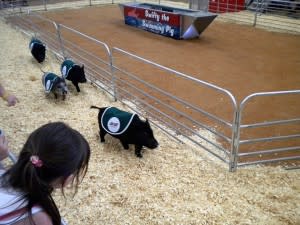 I learned that the pigs were in hot pursuit of Oreo cookies.  Seriously, that is what they race for!
[youtube=http://www.youtube.com/watch?v=bHSI7c8pnh4]
They even had a swimming pig.  His name is 'Swifty' and apparently he's a big deal on the pig race circuit.
Another highlight of the day was all the great music.  The lineup was fantastic!  I think the bluegrass musicians we saw were quite talented, and great sports considering that it rained on and off during the last three sets.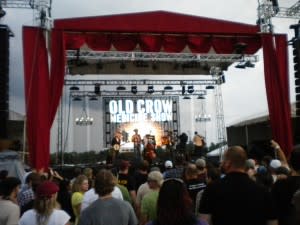 We got to see Chatham County Line, Old Crow Medicine Show, and Ricky Skaggs.  Their styles of bluegrass are each a little bit different, but all of them were fantastic!  I was especially excited to see Ricky Skaggs since he is such a legend in the country music world, and he did not disappoint!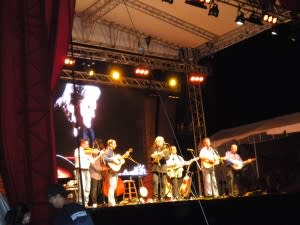 Even though it rained a little bit, the whole day was really enjoyable and I can't wait to see what is in store for next year!
The 2011 Banjo-B-Que  full music schedule for Friday includes: John Popper & the Duskray Troubarours, the Blue Dogs, The Whiskey Gentry, Sibling String and Crosstie Walkers. Saturday's main stage music line up features Old Crow Medicine Show, Doc Watson & David Holt, Frontier Ruckus, Charlie Parr & the Clack Twig Pickers, Chatham County Line, Little Roy & Lizzy, Bloodkin and Peachtree Station
Hippodrome
5540 Jefferson Davis Highway North Augusta, SC 29841 (803) 400-3609
http://www.banjobque.com/index.php