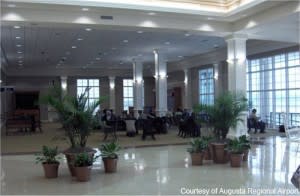 I saw Augusta through my dad's eyes!  He flew in from New York City and I picked him up from the Augusta Regional Airport.  He was really impressed because the last time he was here it was the old airport (Augusta's airport was recently renovated).  In his words we "moved up in the world"!  I guess I took the airport for granted since I do not visit very often.
Also, I knew Augustan's were friendly because it was one of the things that sold me on Augusta when I moved here back in 1995. The attendants at the airport were all very friendly and helpful.  We were out of there in no time.  His bags came out immediately – no problem.  When we got to the car and went to leave the attendant in the booth was very pleasant – "Have a wonderful visit to Augusta" she said.
Check out the Augusta Regional Airport website for information about flights.