Back
Augusta Regional Airport
I know it sounds weird, but I love my airport. And at my house it is a fun trip every time we go, so I thought I would write about it.
The Augusta Regional Airport is serviced by three airlines – Delta, US Air and American. Love this. The airport got a fantastic face lift in 2008. So it really is a new airport, but still feels like a great hometown airport.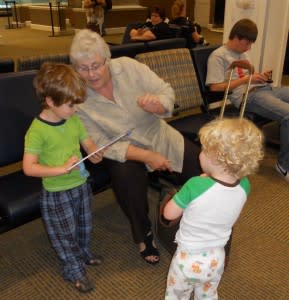 In my house it is an adventure because this is where we get to see big planes and pick up Gigi (my mom) and YaYa (my sister) when they visit from Florida and New Jersey. Easy connections and good flight schedules make Augusta an easy trip for them. Yes – this is a picture of my kids in pajamas at the airport. But even if it is past bedtime, there is really nothing that will keep them from going to the airport.
Another thing I love about my airport is the fabulous Augusta Visitor Information Center, right in the heart of baggage claim. Here you can pick up a visitor guide, calendar of events or map. And check it out…You can have your picture taken in front of a replica of the Augusta National Golf Club's 13th Hole. Awesome!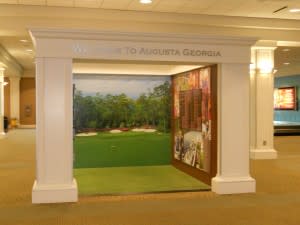 So don't think I am weird because I want to write about my Augusta Regional Airport. Think I am weird because we have an airport song we sign every time we go. "Going to the airport, airport... Going to the airport, airport…"