Back
Augusta Pride Parade & Festival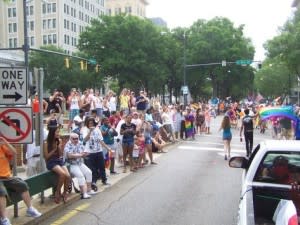 I had the opportunity to witness a first in Augusta!  I attended the first Augusta Pride Parade and Festival.  It was a celebration of diversity and equality among everyone living in the surrounding area.  It started out with a great, fun parade down Broad street.  The crowd was lively and the floats and dressed up cars and trucks were a sight to see.  Afterwards, everyone moved to the Augusta Common where vendors were selling food, jewelry, clothing and Pride t-shirts.  There were activities for children as well.
I left the event around 1:30 to go cool off and be back in time for the main event.  Grammy Award Winning Disco Diva Thelma Houston!  Thelma just turned 67 and she still has it.  She turned it out with her rendition of some of the great musical groups of the past.  Ms. Thelma ended it with her most famous song "Don't Leave Me This Way" and I must say I was really impressed with her singing and her moves.
The final touch for the evening - there was a rainbow in the sky!  All in all, despite the heat this was one of the best first time events I've been to in a long time and I can't wait for next year!