Back
Augusta IronMan 70.3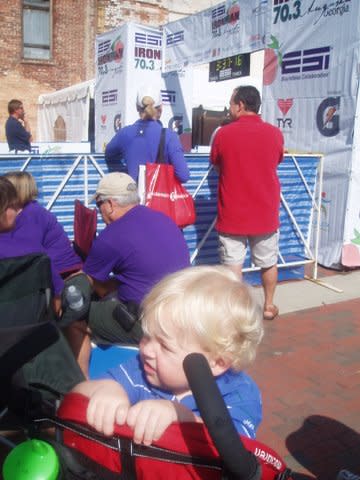 You probably don't think an Ironman competition is good for one or three year olds – but I have to tell you they loved the Augusta Ironman 70.3. On Sunday, September 28, 2009 I took the entire family to downtown Augusta to watch the final stage of this amazing race.
It was the largest Ironman 70.3 competition ever held. Starting at I think 7:30 a.m. they swam in the Savannah River for more than a mile. Then road their bike into South Carolina for something like 56 miles. And finished on with a half marathon through historic downtown covered in shade thanks to some old elm trees and crepe myrtles.
We actually started our adventure watching the first competitor finish the race in less than four hours. He crossed the finish line at the Augusta Common, a park in the middle of downtown. They had cloggers on either side of him as he crossed the finish line. Again I was very impressed, but the kids enjoyed the tents set up and all the flags and colors and of course any green space to run free is fun for them.
The athletes continued to file in for the next several hours. It was really like watching a parade. Everyone cheered and clapped for the runners. We sat and had lunch at T-Boys. I do recommend the Shrimp Po-Boy and the homemade potato chips and swamp dip. Yeah – not the meal of champions, but a meal for the family. We then sat on the curb and watched them go by.
I really look forward to next year when the Ironman comes again to Augusta. I am pretty sure I will not be competing… but you never know…it looked like so much fun!