Back
Augusta Futurity at the James Brown Arena in Augusta, Georgia
The Augusta Futurity is a fantastic event that comes to Augusta, Georgia every January. It is a first-class World Championship event for cutting horse competitors. But it is also fun for the kids.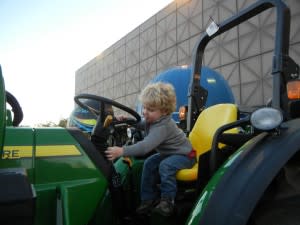 This year I took William, 4, and Jacob, 2, to the Friday Night Event at the James Brown Arena in downtown Augusta. This is the night for the 5/6 Year-Old Classic Non-Pro and Open Finals. Do not ask me what the means – but I think it has something to do with the age of the horse.
At any rate, we actually went earlier to see the Area 18 Youth Scholarship Finals. These are riders under the age of 18 competing for a scholarship. It was great fun. We got to see boys and girls ride horses and cut the cows. Click here to see a little bit of the action! The youngest rider we saw was 10 years old and he did great. William enjoyed watching the kids compete.  Jacob was more into the popcorn. He is two – what can I say?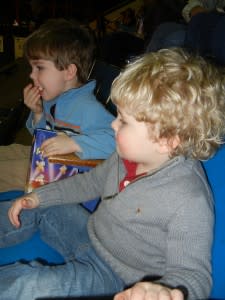 Before the competition began there were several cowboys settling the herd. This is when William leaned over to me and said, "Mom, some of those cows are wearing earrings." He was dead serious and I had to laugh.
On the way out we stopped at several vendors and checked out the fun stuff they had to offer. Lots of great cowboy boots, hats, saddles and jewelry. William and Jacob loved the local hand carved statues. And of course the tractors – they are boys.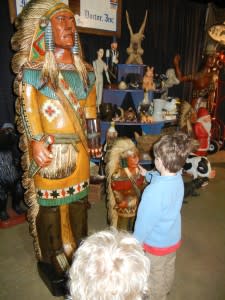 Be sure to make plans to attend the Augusta Futurity in Augusta, Georgia at the end of January every year. And bring the family!
Augusta Futurity Atlantic Coast Cutting Horse Association P.O. Box 936, Augusta, Georgia 30903 706-823-3417