Back
Augusta Canal Boat Tour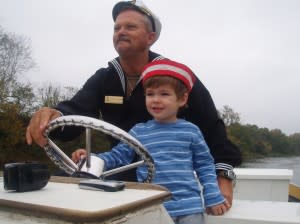 It was a foggy October morning in Augusta, Georgia when we decided to take the kids on their first Petersburg Boat Tour along the Augusta Canal. They loved it!
Jake loves the water – although at 1½ years old everything that is water is "boat." And William the 3 ½ year old got to be the Captain. The tour guide gave plenty of history that was lost on my two kids, but I enjoyed the stories. The boys were entertained with wildlife we saw - birds and turtles. But of course we kept an eye out for alligators.
There are several different types of tours besides the one hour tour we took – like moonlight tour and a music tour. I know groups have even rented the boats for family reunions and office outings. For more info on the boat tours, history and museum visit the Augusta Canal's website. Because I know I am missing all sorts of important stuff.
But I have to say our tour was just long enough and the photo of Captain William will last forever!