Back
April in Augusta - Masters Time
I know it is March and maybe cold where you are, but in Augusta spring is coming and so is the excitement about the Masters Golf Tournament. I moved to Augusta in 1995 and have begged, borrowed and almost stolen to make it to the Augusta National Golf Course every spring. The joy of this tournament never gets old. So I thought I would share a few of my favorite parts.
Free Parking – from the very beginning it is awesome. Tell me what other major sporting event offers free parking!!!!!! From wherever you are coming, follow the golf traffic signs. Don't try to get sneaky. The signs truly send you the quickest way to free parking. And remember to leave the cell phone in the car – it is okay. It will actually feel quit liberating.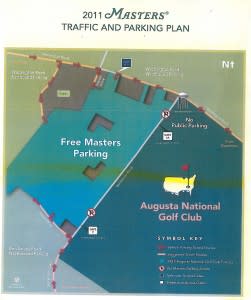 Then you walk in Gate 6A and expect to be Wowed! If you have not been in awhile this is all new. They have definitely added the Disney effect – a grand entrance. Don't rush. Take in all in. Then hand them your ticket. Remember not to permanently attach the pass to your body once you get out of the car. The security guards will need to scan it at the entrance. Then after that you can permanently attach it – just make sure they can see it. They will ask throughout the day if they cannot see it.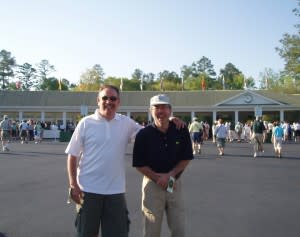 You will walk in alongside the driving range. This is also new as of last year. For me, it seems a little dangerous. But apparently these guys do not have as many bad shots as I think. Another little insider info – on your left is a small cabin. This is where ESPN and a few other media folks broadcast from during the week. So they actually have the back drop of the driving range. I enjoy taking time at the driving range. There are nice bleachers to sit and watch the action and soak up some sun. Last year, when Tiger Woods made his big entrance back to golf it was here in Augusta. I spent some quality time with him at the driving range. You can see the media cabin in the background as well.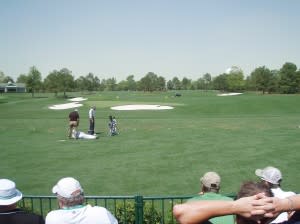 It really is a great time in Augusta at the Masters Tournament. But I could write all day. So I think I will save dirt cheap fabulous food, fantastic scenery and the time I was approached by a security guard for another edition of the Visit Augusta Blog. However, if you are coming this year and have questions – do not hesitate to call 800-726-0243.