Back
Antonio's Pizza Doesn't Disappoint!
Recently my mom introduced me to Antonio's Italian Eatery. It's about 5 minutes from downtown Augusta over the river in North Augusta.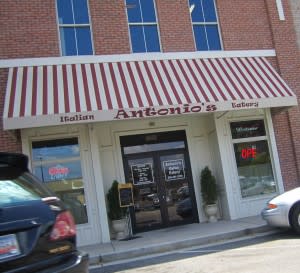 You'll recognize it from the cute red and white striped canopy shading the front entrance.
We went for lunch and ordered a White Pizza – garlic, olive oil, spinach, and tomatoes – and we were NOT disappointed!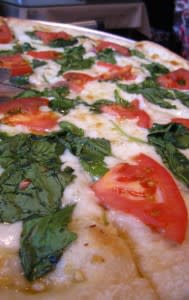 The regular crust is perfectly salty, bready and a little crunchy. The toppings tasted fresh and flavorful. Since we ordered a 14-inch pizza, it took slightly longer than if we had ordered single slices, but having leftovers to take home for dinner made the wait TOTALLY worth it!
Inside was cool, clean and simply decorated and our server was very helpful.
I plan on going back very soon to try their slice specials, which are super affordable and seem perfect for lunch!
Antonio's Italian Eatery
336 Georgia Ave
North Augusta, SC 29841
803-341-9720
Open:
Mon-Thurs: 11am - 9pm  //  Fri: 11am - 10pm // Sat: 12pm - 9pm