Back
Aerial Adventures Over Augusta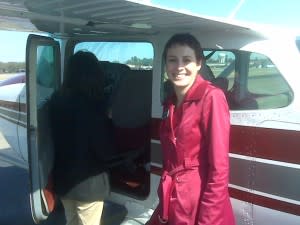 I recently had the opportunity to get a view of Augusta that few others have experienced – from the sky!  If you have a sense of adventure and aren't afraid of little planes, you really should check out an aerial tour of the city.
We weren't sure if we were going to be able to see anything since it was a foggy morning, but fortunately it all burned off by late morning and we were set to go. We checked in with Augusta Aviation at Daniel Field, met our pilot, climbed into our Cessna, put on our headphones and were off!
Now I will say that the plane is only a 4-seater, so it was a little unnerving at first. But once we were in the air it was so exciting to see our beautiful area and get my bearings with landmarks, that I forgot all about the size of the plane. I was so busy concentrating on figuring out where I was and what I was seeing, that my only thought of the plane was the fact that it was so small it allowed me to easily see things on both sides.
We flew at a pretty low altitude, staying at around 1,000 feet up, which made it easy to spot landmarks. Heather, our pilot, took us over Augusta State University and the Augusta Country Club before looping around over the greenest thing in the area this time of year, the Augusta National Golf Club. Preparations are definitely underway for next month's tournament, and I could see scoreboards and grandstands up and ready. From there we headed towards downtown before following the Savannah River and Augusta Canal north towards Lake Thurmond. We didn't make it quite to the lake since we had done several loops over the golf course, but did get a good view of the dam. It was a great flight and I gained a new appreciation for the beauty of our waterways.
The flights are very reasonably priced, and they even have a Sunset Tour that includes wine and cheese along with the flight over the lake, perfect for a special occasion. I definitely recommend taking the opportunity to experience Augusta from the air and I'm looking forward to doing it again once the flowers start blooming.