Back
A Tavern Full of Books
"T.V.—If kids are entertained by two letters, imagine the fun they'll have with twenty-six."—Unknown
The handwritten quote by some unknown person welcomes me into The Book Tavern from the sidewalk chalkboard and makes me smile.
There are two ways that I like to spend my free time during the summer in Augusta. Sitting in the shade somewhere with a good drink and a great book, or hiding inside from the heat with a good drink and a great book. So, naturally, The Book Tavern is one of my favorite places.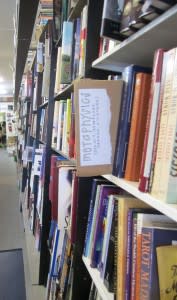 There's a really cliché saying: "Don't judge a book by its cover." I hate to say it, but I've discovered that this is true on a few different levels, thanks to The Book Tavern. The first time I walked into the store, I thought "Man, this is so small!" and it kind of is, if you compare it to some chain mega book store. But you'd be amazed at how many books there are inside. Seriously, I could probably spend at least half the day in there if I tried to look at all of them. They've got a couch, so if you're one of those who has to read the first chapter to see if you want to buy the book, have a seat.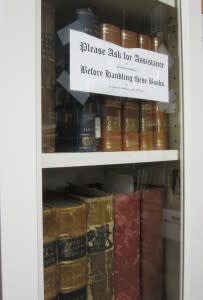 Today I'm looking for a book. Any book, to be more specific. I've got a weekend with nothing planned, so I know I need some new reading material. I also have $10 bucks on me, so I know that's my limit. Now, at a chain store, $10 bucks might buy you some keychain book (you know, the kind that has 10 pages of really stupid jokes or cocktail recipes) but not here. A really big part of The Book Tavern's inventory is used books that are priced WAY cheaper than the original retail value (can I get a "hallelujah!"?)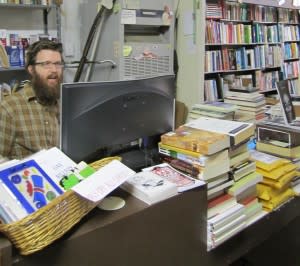 If by chance you ARE looking for something specific, like a rare book or a signed book, then the staff is always very helpful and friendly. For example, I went last year looking for a book called "Dracula: The Undead" (Yes, I'm a vampire book reader. Don't judge.) and they didn't have it in stock yet, but they ordered it for me, which was a pain free and pretty awesome experience.
So, I find my book for the weekend ("Real Life & Liars" by Kristina Riggle) and head to checkout. Since I go there pretty often and I'm a HUGE believer in recycling books after I've read them a few times, I have store credit. (The Book Tavern offers people the chance to bring in their used books to sell to the store for credit.) Since I applied my store credit to half the price of the book, I ended up paying $4.48. Mission accomplished.
The Book Tavern
1026 Broad Street, Augusta Ga
(706) 826-1940
http://www.facebook.com/thebooktavern